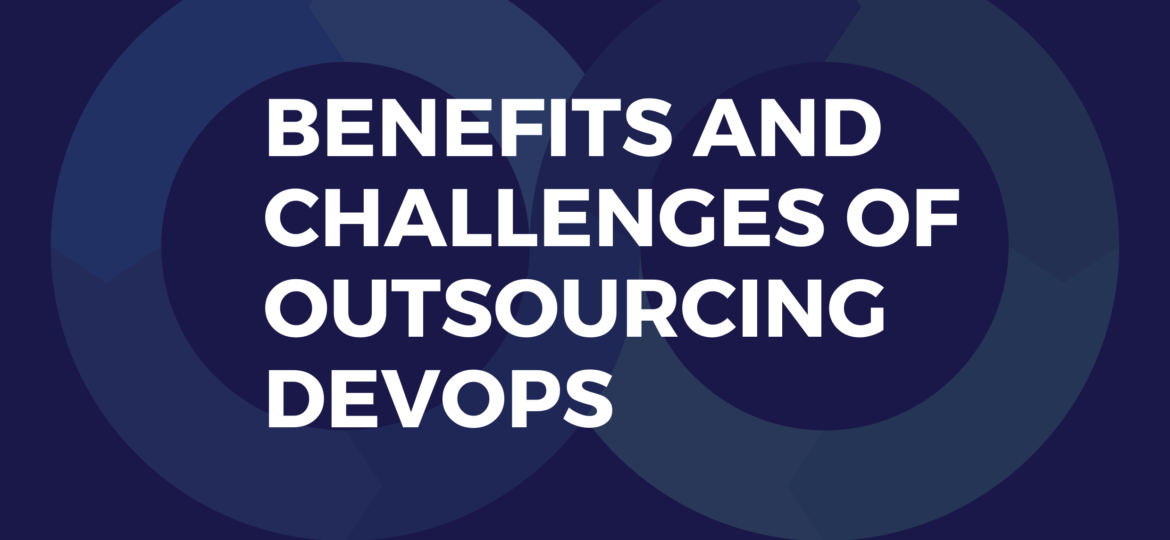 Businesses of all sizes can benefit from outsourcing DevOps. However, there are challenges involved and it isn't always the best option. In this guide, we'll explore the potential advantages of outsourcing DevOps and determine whether DevOps outsourcing can be a success.
Estimated reading time: 7 minutes
What is DevOps outsourcing?
DevOps outsourcing relates to working with an external agency or individual freelancers to take care of DevOps. The aim of DevOps is to bring software development and IT operations and processes together to provide cohesive, efficient products and streamlined systems. DevOps covers development, IT operations, security and high-quality engineering.
Research suggests that DevOps outsourcing is becoming increasingly commonplace, as organizations look to benefit from skills they do not already have in-house. There is a global shortage of experts, which is driving demand.
What you can expect from DevOps outsourcing
Every business owner should consider the potential benefits and disadvantages of DevOps outsourcing before deciding whether or not to proceed. It is beneficial to know what to expect if you choose to outsource DevOps. The State of DevOps Report suggests that businesses that outsource DevOps can achieve the following results:
24x faster recovery from failures
3x lower change failure rate
22% less time spent on unplanned work and rework
0% time remediating security issues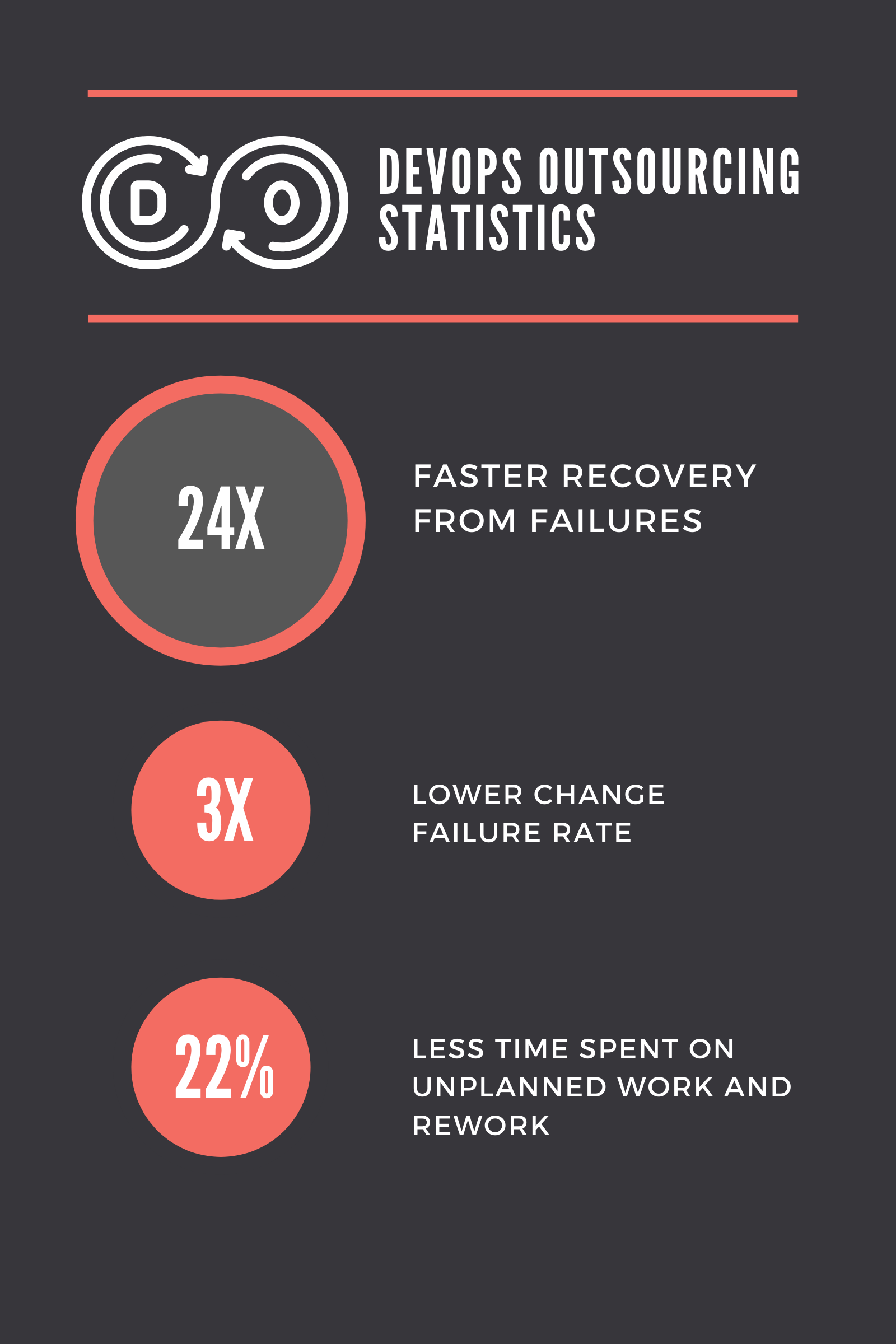 Benefits of outsourcing DevOps
If you run a business and you're looking to utilize or expand DevOps services, then you may be considering outsourcing DevOps by hiring expert DevOps consulting firms. Outsourcing offers a wide range of benefits for companies with varying requirements. Here are some of the primary benefits:
Faster development
Time is of the essence in business. One of the key advantages of outsourcing DevOps is faster development, shorter development cycle, and continuous delivery of applications and services. When you work with an experienced agency or experts in the field of DevOps, you don't have to start from scratch and it will save time and money. You can capitalize on the benefits of working with development teams that are well-versed in DevOps methodologies. Consultants who offer DevOps as a service achieve outstanding results in a short period of time.
If you can reduce time to market, your business can become more agile. Consequently, being agile will enable you to provide a better service for your customers. In turn, this creates and develops new and existing products that gain a competitive advantage.
Access to a pool of DevOps experts
One of the main challenges facing organizations that want to hire DevOps experts is a global shortage of talent. The demand for employees who have expertise in DevOps far outweighs the supply, which means that it is incredibly difficult to attract candidates. Outsourcing provides a solution.
Rather than competing against other companies to hire employees, businesses can access a pool of skilled, experienced, talented individuals through outsourcing. Outsourcing provides a hiring alternative which enables you to benefit from working with experts without adding to your hiring costs via recruitment and training.
Statistics indicate that the DevOps market has grown between 40% and 45% since 2016, but the number of engineers has not risen in tandem. If you were looking to hire experts to join your company, it is probable that it would take a long time to find certified devops engineers. Additionally, you would have competition hiring talent from other firms. Salaries are rising, which also means that hiring may not be a viable option for many organizations.
Enhanced security practices
Additionally, security and compliance have never been more important for business owners. For companies that don't have in-house IT or security teams, navigating DevOps security best practices is challenging. There are security risks and hazards lurking around every corner.
Enhanced security practices is another major benefit of DevOps outsourcing. If you choose to work with a service provider, experts can help you implement DevSecOps policies. They can also implement robust defenses in the cloud infrastructure to protect your applications and ensure your DevOps culture is aligned with security best practices.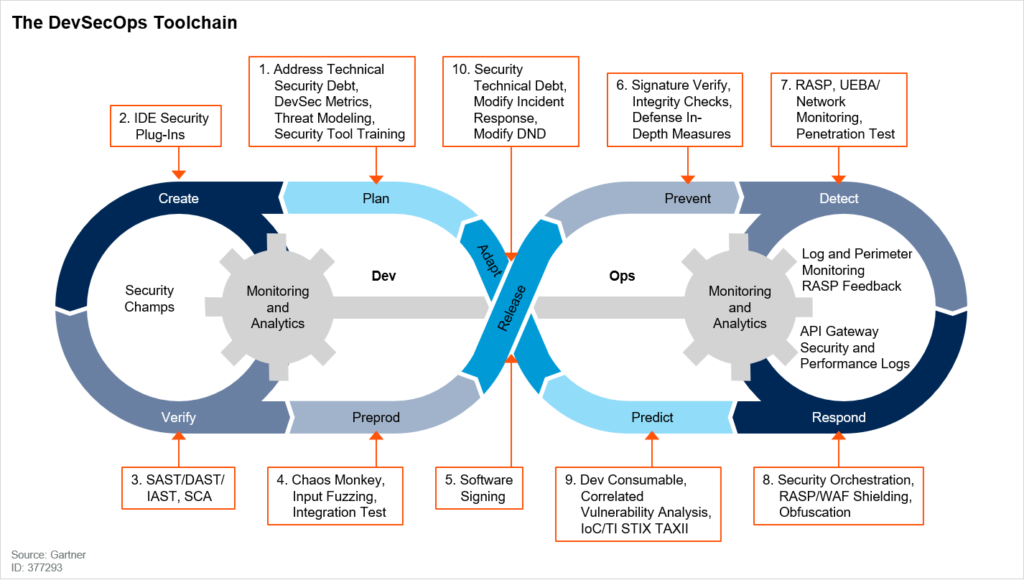 Increased efficiency
Efficiency saves time, effort and money for organizations. Increasing efficiency can help businesses to cut costs, provide a superior service, boost team morale, and streamline processes which enhance productivity. Outsourcing DevOps is an effective means to supercharge development processes and operations.
When you work with a company that offers tailored DevOps services, you will be teaming up with experts who are aware of devops best practices. Most often, these firms have experience testing different solutions, ideas, and approaches to DevOps problem-solving. Dedicated DevOps teams work faster and they can produce high-quality products within a shorter time frame.
Improved quality and flexibility
Shorter, simplified development frameworks improve efficiency, but they also provide access to greater flexibility for organizations. With direct access to pools of talented AWS DevOps and Azure DevOps engineers, businesses can be more agile and adapt to new trends or ways of working. They can also bring products and services to the market faster. Outsourcing can also improve software quality because devops agencies utilize monitoring techniques along with quality assurance and rigorous testing to maintain the highest standards.
Challenges of outsourcing DevOps
There are pros and cons of outsourcing DevOps. It's wise to weigh up the risks and benefits before deciding whether outsourcing would work for your company. Although there are several advantages of outsourcing, there are also challenges to be aware of. These include:
Restructure of work culture
DevOps is an umbrella term, which covers an expansive framework and an engineering culture. If you are outsourcing DevOps, your in-house engineering team has to adjust to different ways of working and embrace change. The challenge is overseeing a smooth transition and encouraging your employees to let the DevOps team to work collaboratively in-house to achieve a fluid work environment and optimal outcomes.
Demands strong teamwork
To benefit from outsourced DevOps, businesses need to be able to adapt and adjust and actively encourage and facilitate teamwork. In-house teams and external agencies need to work together to create and embody a culture and environment that supports cohesion. There needs to be give, as well as take, on both sides.
To maximize the chances of success, it is essential for teams to communicate openly through tools like Jira, Github, Gitlab, Slack, and Teams. Additionally, a solid DevOps framework should outline clear engineering objectives and to explore the benefits and challenges in detail. As a business owner, it is also crucial to take your time when choosing a DevOps outsourcing company. Get to know the devops consulting representatives. It's a best practice to discuss goals, targets, read testimonials, and look for agencies that share the same values. Lastly, find a provider who offers a personalized service.
Requires expertise
Outsourcing can be incredibly advantageous for businesses that don't have in-house devops experts. However, it does require a certain level of software engineering expertise. To benefit from working with a provider, you need to be able to outline requirements and explain what you expect from the company. It's also beneficial to have sufficient devops knowledge to monitor progress and interpret results to make sure that you are on track.
Initially takes time
Building strong relationships and integrating teams of DevOps engineers within on-site departments takes time. It is essential to go into the outsourcing process with realistic expectations. Additionally, being patient as work with new models and to create a culture that facilitates collaborative work with outsourcing companies.
When you meet with representatives and compare offers, look for agencies that prioritize communication and interaction, as well as offering access to skilled experts. While outsourcing can help you shorten development cycles and boost efficiency, it can take time to establish relationships and restructure the work culture.
Summary
DevOps engineers are highly sought-after, with a global skills shortage and an increased desire to access DevOps services driving demand. DevOps outsourcing services offers an array of benefits for companies, but there are also challenges to consider. Hiring DevOps engineers can be costly and it's often difficult to find suitable candidates and beat offers from competitors.
If you outsource, you can access talent pools without hiring new employees. DevOps outsourcing increases efficiency, shortens the development cycle, enhances security and provides superior quality and flexibility. However, it can take time to build strong and cohesive teams.
How can Gennovacap help My company?
Gennovacap is offers devops as a service and managed cloud services. Our nearshore teams can work closely with your in house development teams to assess devops practices, create devops strategies, and implement best devops practices to ensure your software engineering success. Interested in hiring us? Drop us a line in the form below.
[hubspot portal="3970341″ id="94c98f33-2b0f-4df5-a88b-1357f1d1df8b" type="form"] [hubspot portal="3970341″ id="94c98f33-2b0f-4df5-a88b-1357f1d1df8b" type="form"]
[hubspot type=form portal=3970341 id=94c98f33-2b0f-4df5-a88b-1357f1d1df8b]