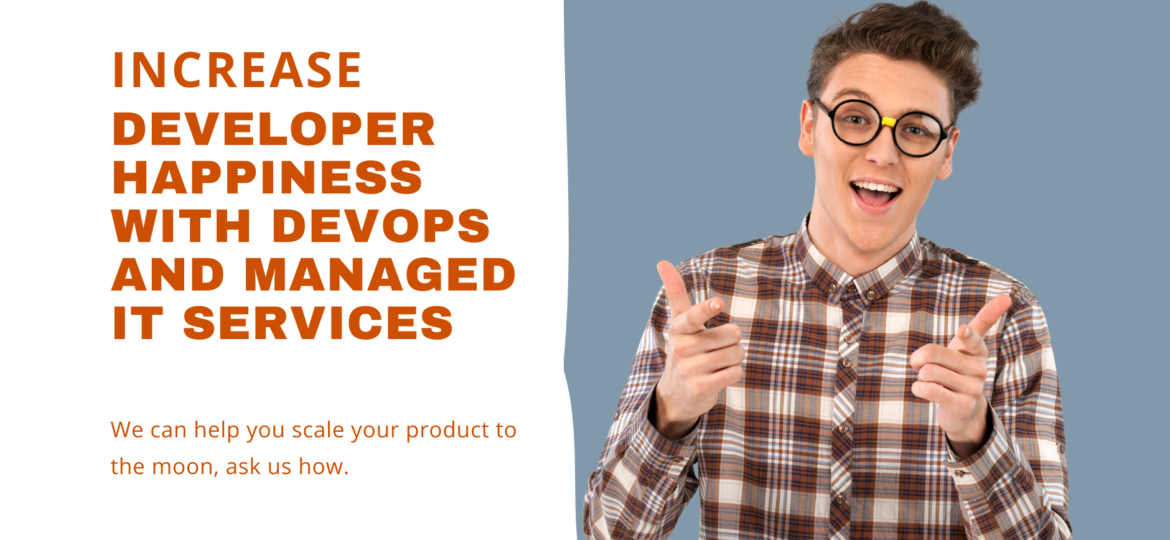 Summary
In this article, we will explain how to increase developer happiness by pairing devops services with managed IT services. By implementing a world class devops program with managed IT services, your developers will become a profit center. They will ship better software, faster.
Estimated reading time: 5 minutes
About Us
Over the past 10 years, we've had the honor and privilege of working with some truly inspiring people. These professionals have made it their personal mission in life to positively impact others through technology and software solutions. Gennovacap's team has been a part of this journey, shipping software for technology companies. Our team of engineers built out a world class devops consulting firm based on a set of market validated devops best practices.
If you're interested in hiring us to help with devops, AWS Managed Services, cloud migration services, or managed IT services, please contact us. 
(PS: We won't dive into any devops strategies here. However, you can join our mailing list to receive the latest and greatest guides, resources, and product reviews):
Join our Mailing List to Get Guides
[hubspot portal="3970341″ id="085bf0c9-b586-4cf7-95bc-5d521731b15d" type="form"]
Devops Services + Managed It Services = Developer Happiness
We've seen tech companies become successful and consequently hit growing pains because their devops strategies lacked depth and features. Their ability to scale was limited only by their ability to quickly release features. However, once they implemented a fundamental devops program, they were able to rocket their product to the moon.
Furthermore, we've seen companies who implement amazing devops programs only to leave their software engineers fixing Kubernetes crashes. As a result, it's advantageous to add managed IT services with a site reliability engineer after implementing the devops program.
By implementing a world class devops program with managed IT services, your developers will become a profit center. They will ship better software, faster.
Benefits Of Devops Services
Transform Operations
The benefits of great devops services are real and measurable. Companies that incorporate our devops best practices get more done, period. Devops focused organizations can deliver quality products with speed, functionality, and innovation. Here are some devops stats:
63% experience improvement in the quality of their software deployments
63% release new software more frequently
55% notice improved cooperation and collaboration
38% report a higher quality of code production
Make Developers Happier
There is enormous waste in a typical IT environment. IT can be a huge productivity killer for your engineering team:
Engineers waiting for other engineers
Developers waiting on other machines
Engineering team stuck repeatedly with the same IT issues
Engineers want to be productive. They want to spend time writing new features, but are left churning over devops issues causing frustration and unhappiness. When developers get rid of managed IT infrastructure, they can spend that time adding value to the organization and everyone benefits.
Automate Business
Automated deployments and standardized production environments, make feature releases and products more predictable. Automation also frees people from routine repetitive tasks to focus on higher value things.
Benefits Of Managed It Services
Reduced Costs
By outsourcing your IT to a managed IT services company, you control and reduce costly network maintenance staff. Staffing an IT department is expensive and unnecessary for businesses with simple networks. Outsourcing to a managed IT services provider like Gennovacap can save you thousands each year.
Fast Response
With Managed IT Services you can expect quick response times through enterprise-level monitoring (SLA's). Additionally, you'll receive fast assistance for spinning cloud services up or down. Gennovacap's SRE's can access, monitor and repair any network issues within minutes of each incident.
Operational Scalability
Managed IT service providers offer a variety of managed IT options that scale with your business. Occasionally, managed IT providers offer payment plans, enabling your business to focus on growth. The best managed IT service providers offer a combined solution, which produces more cost savings. These combined solutions may include security protection, network monitoring or the setup of a new service area.
How Can Gennovacap Help My Company?
Gennovacap's Devops Consulting practice is the bedrock of modern application development. Our devops team researches infrastructure and environments to build custom processes using modern tools that complement other frameworks. We also automate cloud infrastructure and processes while ensuring continuous delivery and continuous integration. Our DevOps Services and DevOps best practices will bring any product to market faster and at a lower cost.
Managing IT is expensive and our Managed Cloud Services team is here to help. We can guide and provide support for your engineering team. Our SRE's will monitor your network, upgrade infrastructure, curb cloud expenses, and keep your cloud services running 24/7/365.
Accelerate Time To Market
We can accelerate your time to market through a top tier devops program. Through the use of containers, infrastructure as code, and continuous integration and continuous delivery systems- we will help your engineering team release code faster.
Cost Control
Depending on the scope, setting up a devops program only takes a few months. With proper scoping and assessments, we can accurately estimate cloud spend. Once your devops program is in place, our month to month contracts are straightforward and easy to navigate. Our SRE's will consistently monitor your cloud spend and work with our devops engineers to optimize your costs.
Training
We will also document the entire playbook and runbook into a wiki. In the wiki, we will include:
Architecture Designs
Component configuration
CLI with local ops development environment
Terraform commands
Developer Tools

How to install
Usage commands
Troubleshooting issues

CI/CD Process
Additionally, we will spend 30-45 days training your engineering team on how to use Kubernetes, manage deployments, and educate them on the infrastructure.
Incident Response
After the program is in place, we will embed a site reliability engineer with your team to perform the following tasks:
Weekly maintenance of cloud systems
Support team on weekly deployments
Day-to-day management of your infrastructure
On-demand provisioning for common cloud resources
Scheduled maintenance of OS updates and patches, backup policies, service-level backups, and cross-region replication


Hire Us To Scale Your Product
[hubspot portal="3970341″ id="94c98f33-2b0f-4df5-a88b-1357f1d1df8b" type="form"]