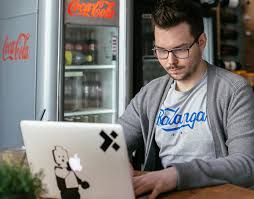 135+ Places for Finding Remote and Freelance Web Developer Jobs:
Are you an experienced web developer ready to ditch the office? Then you've come to the right place – here is a comprehensive list of dozens of job boards, platforms, social media and community sites to look for remote and freelance web developer jobs.
Looking to hire a freelance app developer instead? Read Gennovacap's guide finding the right developer here.
Like Toptal, 10x is another well trusted source of tech talent. If you pass their vetting process and get hired, they will manage your contract, billing, client relations and even provide tax advice.
If you need experience, then AirTasker is a great way to build a portfolio of work. Just register to become a Tasker, filter for remote tasks and only and search for 'web development'.
AngelList isn't only for sourcing funds for startups, but employees as well. Setup your free profile and get to searching startups with remote positions.
Despite its name, Angular Jobs features many types of tech and developer jobs with a 'remote' filter.
Authentic Jobs specializes in new economy jobs such as digital marketing, software engineering and web development. It also has a filter for finding the remote jobs posted to their board.
Finding a remote tech job doesn't have to be difficult – it can be awesome with this job board!
Codeable vets WordPress developers then assigns accepted freelance coders to projects requested by clients. If you get hired, you won't need to worry about billing, customer acquisition or client management – just developing custom plugins, designing websites and connecting APIs.
Codementor may have changed its name to arc(), but the concept remains the same: pass their rigorous vetting, optimize your profile on their platform and interested recruiters will start hiring you for remote work.
CodePen has an active jobs board with remote listings and coding challenges to help you get noticed by recruiters.
To be included in their directory of freelance developers, Communo requires engineers to complete an interview, submit case studies of their work and pay a $199 yearly fee. This nominal fee replaces the traditional commission structure for jobs you're hired for.
Like many of the better job boards, CyberCoders makes it easy to search for jobs by coding skill required. You'll need to register and upload a resume, but after that it's easy to apply to their many remote positions – just search for 'remote developer' in the title.
While it's not as active as the user-generated content that's turned DEV.to into a staple for many developers, they do have a jobs board as well.
Believe it or not, Dice has been around since 1990 and remains one the most reputable and active tech job boards out there. You can either search for 'remote' or 'freelance' in the keyword job search or select the filter 'Work From Home Available'. They've also partnered with Udemy to link to relevant courses that can help you learn the skills you need to land a job.
Some communities have found an alternative to slack on discord and here are a couple you can join to find freelance work.
Get placed into a remote programming job with some of the best North-American companies. They also have a helpful podcast for remote workers.
You can browse and filter through all their jobs and apply directly – or you can sign up for their free service that screens remote jobs based upon your skills and emails you invitations to apply if they think an opportunity is a good fit.
Another Javascript framework that supports its developers with an active job board.
Looking for a remote programming job while living in Europe? You'll find dozens of openings here.
With billions of users, it's only natural there'd be active groups with postings for remote developer work. Here is a list of Facebook groups you can scour to find remote and freelance coding jobs – remember to read and follow the rules for posting.
You'll need to pay $14.95 per month to access one of the largest listings of remote jobs. They provide some helpful research on the bigger companies that often hire remote workers.
Freelancer boasts a large number of remote developer projects for you to bid on. Like each of these platforms, make sure to spend time making your profile professional and unique.
Apply to projects and land your dream freelance coding jobs across the globe here.
It might not be the most active board, but sometimes that might mean your application is more likely to be seen.
If you're looking for freelance web developer work using React or React Native, G2i is a platform built to help you find it.
GitHub isn't just a repository for code, but jobs – including remote positions. You can simply type 'remote' for the location and search.
Gun.io is a platform built to help experienced engineers find and manage work as freelancers. After vetting you, they match you with your next client. Gun.io will then handle the contracting, client management and billing for you. They are particularly interested in hiring open source developers.
Sign up and start sending quotes to Guru's vetted freelance web developer job opportunities. Checkpoints and payments will be handled by their platform.
YC Combinator's long-running user submitted news board also has a jobs section with remote work. You can also register at Work At A Startup to easily apply to a pool of startups supported by YC. Early in the month, YC will also start a thread "Ask HN: Freelancer? Seeking Freelancer?" where companies looking to hire freelancers will post like the January 2020 post here.
Hireable compiles job postings from LinkedIN, CareerBuilder and elsewhere into one huge list. While they force you to put in a location, you can simply search for 'remote' in the job title in a city recruiters are likely to post (e.g. New York City).
Hired features an active jobs board with plenty of IT positions – including remote opportunities. But it also provides a skills matching service where companies will apply to work with you if they like what they see.
While not geared towards remote tech jobs, there are some on idealist if you're up to doing some good.
A growing list made up entirely of remote tech jobs including web development, design, cloud computing and more.
An excellent aggregator that pulls jobs from adzuna, ZipRecruiter, CareerBuilder and more. With filters for remote and web developer jobs, jobisjob is an excellent way to search many of the larger job boards on the internet.
An excellent source for remote programming jobs with many of the internet's best known brands. You can also post a resume for recruiters to contact you.
An excellent selection of remote jobs that require JavaScript. There's even a filter for which framework you're most qualified for.
A simple job board filled with remote work opportunities with a filter not only for developers, but by coding frameworks. They also have some great advice on how to effectively work from home here.
Whether you want to work remotely or in Europe, this is one of the hottest tech job board.
You'll need to register and pay $10 every year, but Localancers is a directory of freelance web developer jobs and other remote new economy work.
Much like Indeed or Upwork, LinkedIN is a staple for recruiters and job seekers alike. Find the commute option in the 'All filters' portion of their job board and select 'Remote'. There's the added benefit of seeing how your LinkedIN network may be connected to the hiring company.
But like Facebook, LinkedIN is home to many groups that may have job opportunities within:
Both a tech recruiting service and board to find remote programming jobs, submit your resume and let them match you with the right opening.
Not only a great job board for remote developers, but NODESK features one of the best resource sections for aspiring and current digital nomads.
Outsourcely is one of the most abundant boards for remote coding jobs throughout the world.
You'll need to register (it's free), but Pangian has another curated list of remote and freelance web developer jobs to apply for. It's more than just a board though, but a community dedicated to supporting fellow digital nomads.
Just type 'remote' into the location and start searching for your next developer job here. They also offer 'coaching' sessions to help women grow their careers here.
There are freelance web developer jobs being posted to Reddit everyday, you just need to look in the right subreddit. Derick Sozo recommends avoiding responding to a job posting with a comment, but in a direct message the poster with your pitch. Read more of his valuable advice on how to find and pitch freelance work on Reddit here.
Searching through subreddits for remote developer work can take some time – but remember, it's time other job searchers might not take, increasing your chances to interact with the hiring manager. Here are some subreddits you can search to find developer work in:
This remote-only job board has a strong international focus and new listings for remote developer jobs everyday. They also have a helpful FAQ to help remote workers here.
Why scour social media and job boards for remote developer work when RemoteLeads will do that for you – and email the results to your inbox?
Remote OK isn't just a board with a focus jobs befitting a digital nomad – it even offers quick links to incorporate in Singapore and temporary housing abroad with Nomad List.
More than just a remote job board, Remoters also features interviews with successful digital nomads here.
A no-frills board with openings for remote tech jobs.
Another easy-to-use and high-quality job board focusing on helping candidates find remote work, including developers and filters by coding skill required. They also have a detailed list of expected salaries by position, location and company size.
Ruby Now focuses on finding Ruby on Rails developers for employers. While many of the jobs aren't remote, you can find the ones that are with a simple in-browser search.
Fueled by Jobs2Careers but filtered for remote jobs, SkipTheDrive is an excellent aggregator of available remote web developer and software developer opportunities.
Many developer-focused slack communities have a jobs channel where recruiters post to find talent. Here are tips on getting work through slack and some of the groups you can join:
Sologig is part of CareerBuilder.com, but focuses on only IT and engineering jobs. It has an extensive database of available IT jobs that can be searched by keyword – including 'remote'. You can also post a resume for recruiters to contact you.
Stack Overflow is another giant in the tech industry with a very active active board and a 'Remote' job filter. Answering questions is another way to impress recruiters and build your network.
Toptal is one of the best known sources for recruiters and agencies to find talented freelance developers. You can begin their application process here.
If your portfolio doesn't match your skills, you might consider test-based services like Triplebyte to get remote programming job offers.
Companies and recruiters often take to twitter to announce they're hiring – you just need to know what to search for. Derick Sozo has an excellent guide on landing freelance work through twitter here.
The go-to platform to bid on freelance coding jobs. It has a very large number of opportunities, but you'll face a large number of competitors as well. Here are some excellent tips on optimizing your Upwork profile.
Build your profile on Vettery to start receiving tech job offers – either remote or  in the location(s) of your choosing.
You'll need to pay a nominal fee to become a member, but after you'll be able to apply to dozens of curated developer jobs.
If you know how to develop within the Vue.js Javascript framework – and if you don't, you can learn here.
As you can guess from the name, We Work Remotely is a job board focused on remote work including programming jobs and design. WWR owned by tiny boards, which has other job boards for designers, European startups and AI. They also have an excellent collection of content for both remote work seekers and hiring managers.
Set up your profile, upload your resume and start applying to this curated list of remote developer opportunities. They also offer a resume auditing service focused on finding you remote work.
Another excellent and easy-to-use job board focused on remote opportunities including filters for job skill requirements.
If you're a developer that wants a steady employer that fully embraces the digital nomad ethos, then consider applying to join the X-Team.
This list of places to find remote and freelance web developer jobs are partly sourced from these excellent articles:
Now that you know where to find work, use these resources to help you determine what your salary as a front-end web developer should be.
Need Help Landing a Remote Web Developer Job?
Read some of our tips here:

Learn More >>
Gennovacap was rated one of the best App Development teams in Austin, TX.
Read some of our reviews here on Clutch:

Read Reviews >>
Does your business need help with app or web development?
Learn more about how Gennovacap can help get you started:

Web Development >>