Data has always been one of mankind's most important resources: it guides every decision we make. Now we can collect and analyze what was once an incomprehensible amount of data with machine learning solutions.
If your organization is not investing in more advanced methods of data mining, then you're at a distinct disadvantage to your competitors that are. From Facebook's ad targeting to NASA's ability to track global wildfires, machine learning is driving exciting innovations in technology today. 
Here's how one scientist uses machine learning to help track asteroids:
You probably already know what data is important for your organization to achieve its goals. But you might not know how machine learning solutions could help. Trusted experts like Gennovacap can help guide you through building and analyzing large clusters of data.
Whether you need to sift through large amounts of data for visualizations, recommendation engines, clustering, time series analysis and forecasting – our team of engineers are experienced at providing machine learning solutions with:
Amazon Comprehend
Amazon Lex
Amazon Rekognition Video

Google Cloud Natural Language

Amazon Transcribe
Google Cloud Translation
Google Cloud Vision
Google Dialogflow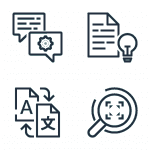 Let Gennovacap take care of the machines, so you can learn to achieve your organization's goals.
Gaining the insights from your data is never just about technical know-how. It's about consultants who know how to work with people. That's Gennovacap's other expertise. We know what questions to ask, tools to use and training you'll need to beat the competition. 
Our AWS DevOps experts were able to lower one AI company's Amazon AWS billing by 90%. We'd love to do the same for your organization. These days you really can't afford not to harness the power of artificial intelligence to accomplish your goals.
Get started today by setting up consultation with one of machine learning expert: